Network News • 0001-01-01
PKF Wallast certified as a Great Place To Work
In 2020 PKF Wallast was certified by Great Place To Work in the Netherlands. Great Place To Work Netherlands examines the degree of trust, pride and pleasure within organizations. 
The results of the employee survey are used to determine whether the criteria for being a good employer have been met. Only organizations that achieve the required score may directly bear the title Great Place To Work Certified. 
PKF Wallast is a very committed partner for entrepreneurs with integrated financial, fiscal and corporate legal services. We operate from four offices in the Netherlands (Amsterdam, Delft, Rotterdam and Woerden). We are also connected to the international PKF International network. Integrated advice is our original core activity, in which we know more and more specializations such as Valuation Services, VAT, Payroll Tax, IT Audit and Risk Management. We do our best to become the best employer and the most valued accounting and consultancy firm in the market. 
Since this year, PKF Wallast has been ranked 3rd on the annual Net Promoter Score (NPS) in the tax advice and accountancy sector. We are therefore very happy and proud that we are now also Great Place To Work Certified.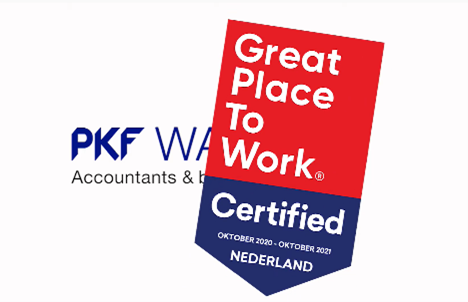 "We believe that the colleague performs better if he or she feels safe and can work comfortably. In addition, we consider our family culture important: learning from each other and celebrating successes together. We are extremely proud that the way in which we have set up employer-ship for our employees is seen. " - Stefaan Rods, CEO PKF Wallast
See more Network News items