Accounting Advisory Services
In the current global environment that many companies operate within, there are many challenges for these companies from an accounting perspective as shareholders, regulators and other external stakeholders take a greater interest in how companies report, disclose and communicate their financial results.
With the increased scrutiny on companies financial reporting and disclosure requirements that the standard setters and regulators are requesting from companies, many businesses are often hard pressed to manage these additional requirements.
Our Accounting advisory specialists can support you in ensuring that companies can meet the additional disclosure requirements from regulators and standard setters and we within the PKF network have experienced professionals to help you to meet these additional demands placed on companies.
How can PKF member firms help?
PKF member firms provide Accounting Advisory Services (AAS) and have a dedicated team of professionals with in-depth technical accounting knowledge, industry insight and substantial industry experience. Our teams are experienced in advising clients on challenging, complex issues arising from transactions, business decisions and regulatory changes.
It is more important than ever for organisations to obtain specialist technical accounting advice and support to help them adapt and succeed. Our teams are committed to helping clients reach the right accounting answer in the context of reporting objectives, commercial reality and regulatory requirements.
Our teams deliver a consistent, cost-effective service, backed by the resources of a network of professionals worldwide, forming one of the world's leading accounting advisory networks.
Services offered
GAAP conversions
Transactions and financial reporting advice
Accounting advice to a restructure
Accounting standards requirements
GAAP conversions
Local GAAP conversion to IFRS require in depth technical understanding of not only the accounting differences, interpretations and potential approaches but also understanding the business implications such as tax relationships, financial disclosures, system changes and training of staff.
We at PKFI have developed a GAAP conversion methodology that will help you to a smooth transition to IFRS and this is highlighted below.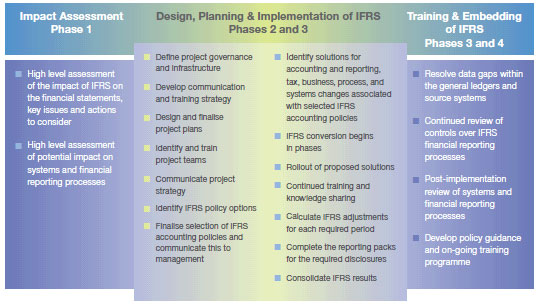 Transactions and financial reporting advice
Our AAS team will work with you to optimise the transaction outcome by addressing key accounting and regulatory challenges that arise on mergers, Initial Public Offerings (IPO), acquisitions and divestments including
Identifying and analysis of accounting issues
Analysing financial and regulatory impacts
Preparing opening balance sheets, carve-out, pro forma or combined financial statements
Modelling of impacts on future income statements, balance sheet items
Working with our transaction advisors on valuation projects and determining the appropriate acquisition accounting adjustments.
IPO readiness
Post IPO support
Accounting advice for a restructure
We can assist clients who are undertaking restructuring of their business or when financing the purchase of assets in helping clients to understand the following:
The values at which transfers of legal entities, businesses or assets should be recorded
The interaction of accounting requirements and the provisions within company law relating to merger relief and group reconstruction relief
Distributable reserves issues that may arise which could limit future dividends and suggestions on how to alleviate such issues
The mechanics of merger accounting and acquisition accounting
The accounting for employee benefit obligations, share awards and goodwill as businesses and responsibilities are transferred between group entities
Accounting standards requirements
We can support companies in implementing new accounting standards and regulation in their businesses. This support would include the following:
Implementing IFRS for published or forthcoming financial statements including advice on notes to financial statements and adequacy of documentation
Technical assistance in complex accounting issues and enhance financial information
Meeting local regulatory requirements under local GAAP
Identifying the financial reporting needs
Understanding the impact on accounting information systems
Understanding the tax implications to assist clients to proactively control and manage tax reporting requirements